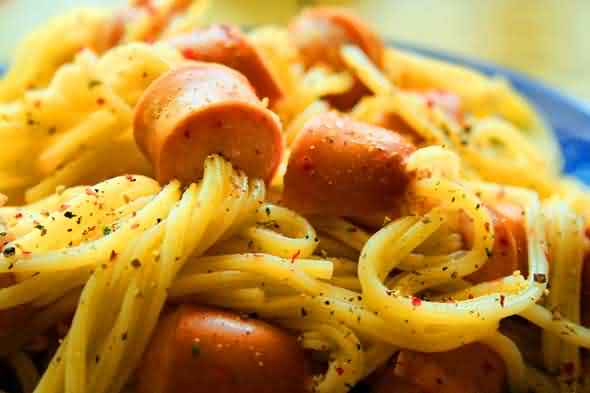 Ingredients:
Ingredients
300 g of dry pasta (spaghetti, lasagne, noodles)
300 g of sausages
2 medium onions
3 garlic clove
150 g cheese
½ tablespoons tomato paste
1 cup water
2 tablespoons vegetable oil for frying a
Pinch of salt (for the sauce and for pasta)
some bay leaves or other favorite spices
Instructions
Chop the onions.

Cut the sausages in pieces of 0.5 cm.

Dilute ½ tablespoon of tomato paste with a cup of water.

You should get the consistency of a thick tomato juice.
Add salt (about 1/4 teaspoon)

Brown the onion on medium heat. Stir not to burn it. It takes 7-10 minutes.

Add sausages. Fry them for a few minutes.
Add the tomato sauce, bay leaves and boil under the lid for 5 minutes.
Turn on the stove (the sauce should not boil), squeeze the garlic, stir the mixture, cover with the lid and remove.
Grate the cheese.
Meanwhile, cook pasta in salted water. Pasta must be hot, so immediately proceed to the next step.

Sprinkle the cheese on the pasta, pour the hot sausage gravy on it.

Mix well enough. The cheese should melt completely.

Serve at once.
Enjoy your meal.