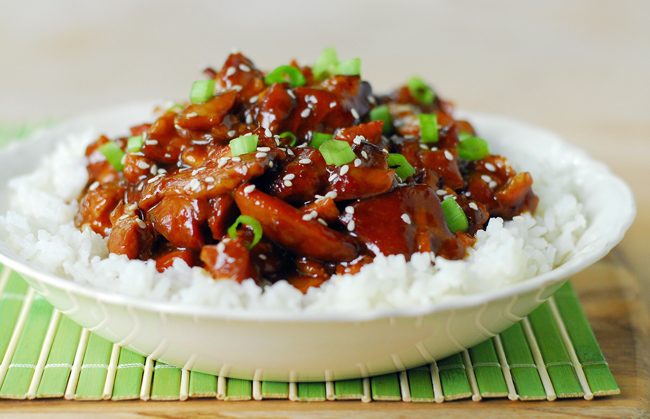 Serves around 4 people
Preparation  time: 10 to 12 minutes
Cooking time: 4 to 4 and half hours on a low flame.
Ingredients
Ingredients
1 kg chicken fillet pepper (to taste)
3 garlic cloves
½ cup of soy sauce
¼ cup of ketchup
½  cup of honey
half an onion
pinch of salt
1/3 cup of water
4 teaspoon starch
3 tablespoon sesame
green onion for decoration
Directions for preparations
Mix chopped onion, garlic, honey, soy sauce and ketchup.
Cut the chicken fillet in half and put it in a bowl for a Multicooker, add salt and pepper to taste.

Pour honey mixture on the top, cover and cook it for 2.5 hours.

Get the chicken. Dilute some starch in warm water and add it to the sauce in a multicooker, cook the sauce for another 20 minutes.

At this time, divide the chicken into fibers, then return it to the prepared sauce, mix well.

Serve with rice and sprinkle with sesame seeds and green onions.
Enjoy!