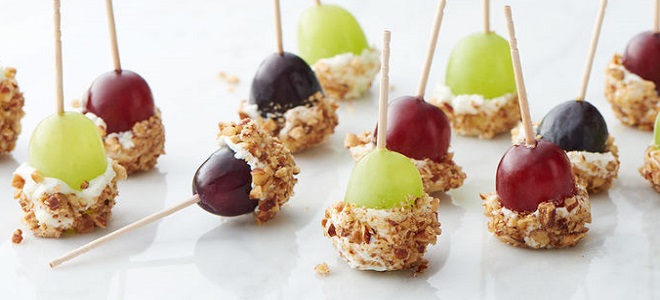 Ingredients
2 tablespoons heavy cream
1 cup salted peanuts or cashews, crushed finely
8 oz. Vanilla CANDIQUIK Coating
a handful of seedless green grapes
1 cup caramel bits
toothpicks
How to cook
First things first and that is you need to pole those toothpicks that you have into the grapes and then set them aside.
Then you need to do the main stuff and that is to combine the caramel bits and the cream in a small pot. The small pot should be placed over a low-medium heat. You then need to gently stir the mixture until it melts. Then do reduce the temperature on the stove to a minimum so that the pot is kept warm enough.
Then comes the yummy part, here you would need to dip in the grapes into the caramel sauce and then quickly into the nuts and vanilla coating.
Now just set the plates that you want to. Just read the dipping process from the caramel to nuts until the grapes are all used up.
Once all done you have the best snack in the world ready and to be eaten. Pop in those round cuties in your mouth and taste the thunder of caramel and grapes with popping nuts.
This will become the go-to snack whenever you want to have some.