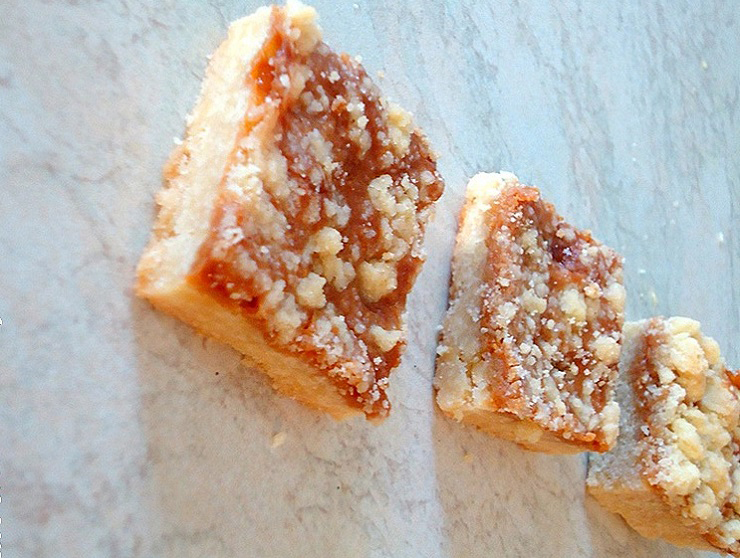 Ingredients
Cake: 
100g butter; 
1 1/2 cups flour; 
1 teaspoon ground cinnamon; 
1/3 cup granulated sugar; 
1 egg
Filling: 
4 large sour green apples; 
3 tablespoon caramel sauce;
Caramel sauce:
70g butter; 
100 g of sugar; 
150 ml of milk;
Streusel:
1/3 cup chopped walnuts; 
1/4 of oatmeal; 
25g butter; 
1 tablespoon brown sugar.
Instruction
The butter should be at room temperature. Whisk it together with sugar with a mixer. Add the cinnamon and the egg. Whisk until smooth.

Combine the mixture with flour.
Wrap in the foil, put in the refrigerator.
Peel, core and quarter the apples.
Place them in the pan, pour some water, and stew until they are in medium-coarse shards. Put aside. Drain the excess water – if there is any.
To prepare the caramel sauce, heat a pan with sugar, when it begins to melt and gets brown, remove from the heat and stir not to burn. Return to the fire while stirring. Slowly add the butter. When the substance will be homogeneous, gradually add hot milk stirring it until it boils a little bit, remove from the heat, cool. Then pour into a jar. The caramel sauce thickens in the fridge.
Grind walnuts (crumble them), butter, sugar, and oatmeal.  We'll sprinkle with this mixture our cake in the end.
Form a cake. Make some pierces with a fork in the dough. And place it in the fridge for 20 minutes. Preheat the oven to 180 degrees.
Put the cake in the foil, and pour some load on the top – split peas, for instance.
Put it into the oven for 15 minutes. When the cake has dried, remove the load.
Put the apples flattening with a spoon. Add the caramel sauce on the top.
So, everything is ready: the cake and filling and sauce, we just need to return the cake in the oven for 10-15 minutes.
Then sprinkle the cake with our streusel

of nuts and oatmeal.

And for 20 minutes in the oven again. Wait until the oatmeal becomes crispy.
Bon Appetit!