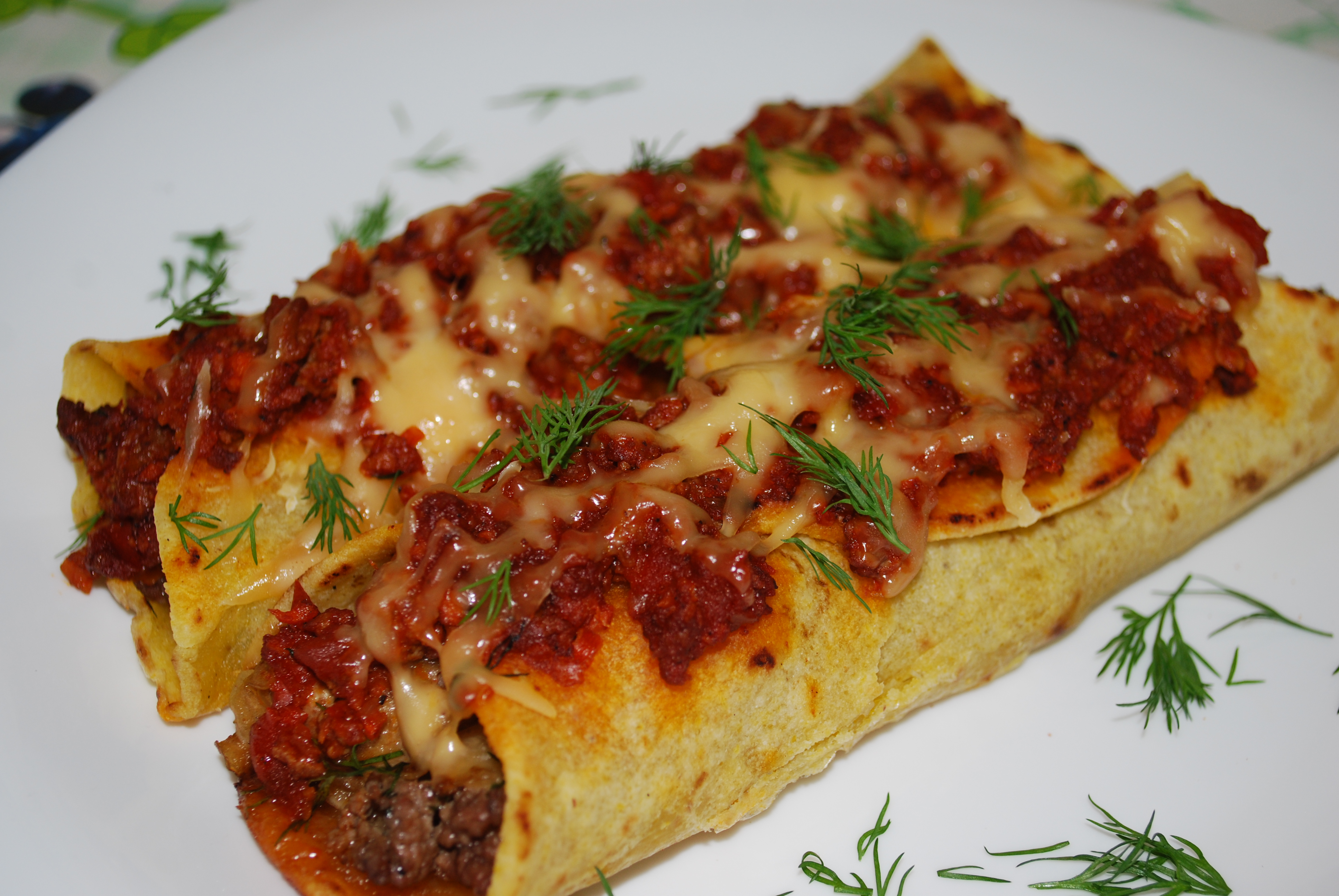 Ingredients
3 chicken fillet (turkey)
1 onion
4 garlic cloves
6-8 tortillas
2 limes
100ml chicken broth
Bunch of parsley to taste
Oil for frying
1 teaspoon cumin
1 tablespoon red ground pepper
½ cup of coriander
200g cheese
250g spicy tomato sauce
½ teaspoon black ground pepper
1 ½ teaspoon salt
Instruction
Step 1: Prepare the chicken.
You can cook chicken until no longer pink.
Chop the onion, garlic and parsley. In a skillet over medium heat, fry onion for 5 minutes. Then add cumin, red pepper, coriander and garlic, fry more 2 minutes. Pour some chicken broth and stew for a few minutes, then put the skillet aside.
Add some salt and black pepper to the chicken fillet in the pan.
Wash the limes, cut in half and sprinkle the chicken with freshly squeezed citrus juice. Then sprinkle it with parsley and fragrant fried onion on the top.
Cover the pan with a lid and leave to cook for 3 – 4 hours.
Step 2: Grind the cheese.
Take any cheese you like and grate it.
Step 3: Form the dish.
When the chicken is cooked, get it out of the pan onto a cutting board with a fork and knife, shred it into pieces of 3 – 5 cm.
As for the tortilla, to roll them, they should be a little warm. Place them into the microwave oven for about 20 – 30 seconds.
So, spread chicken on the warm tortilla, sprinkle with cheese, combine the edges in the roll and put in a baking dish.
Step 4: Bake enchiladas.
Preheat the oven to 180-190 C. Grease the rolls with tomato sauce, sprinkle with cheese and put into the oven for 20-25 minutes. The cheese must melt, boil and have a golden crust.
Remove from the oven and leave it for 1 – 2 minutes in the pan.
Step 5: Serve chicken enchiladas .
Chicken enchiladas are served on the plates garnished with parsley. Also, you can use mayonnaise or sour cream. This Mexican dish is ready!
Bon Appetit!
Tips:
– Onion and garlic can be fried with other aromatic spices to taste.
– Tomato sauce for enchiladas can be homemade.
– Traditionally green cilantro is used, but not everyone likes it, so you can replace it with usual parsley.