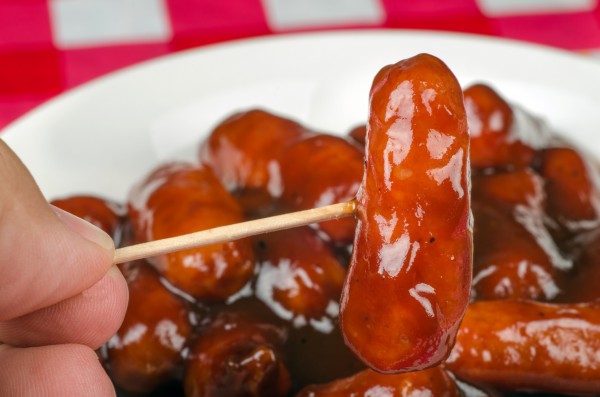 Ingredients
250-300 gr chicken or pork sausages
300 ml of white or red wine
1 onion 2 sweet apples
70 g of softened butter
200ml of chicken or vegetable broth
2 tablespoon of granulated sugar
half teaspoon of cinnamon
Directions:
Boil the wine in a large pan and cook the sausages in it over medium heat for 10 minutes.

At this time, peel and grate the onion, cube the apples.
Melt a small piece of butter in another pan. Remove the sausages from the wine and fry them in oil until they are redden.

Add onions, apples, sugar, cinnamon and butter in the first pan with the wine, then pour the broth. Stir, and boil over low heat until the apples are soft, the liquid evaporates and the sauce thickens. Serve the sausages with apple sauce.
Some tips: choose not too spicy sausages, then they will taste harmoniously with apple sauce.