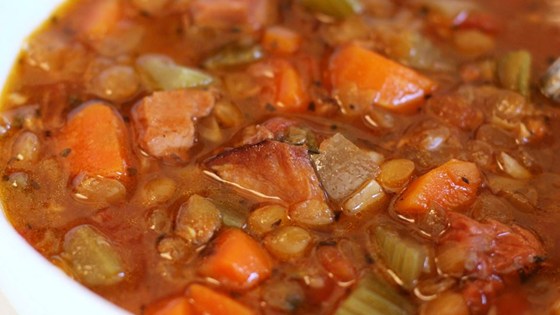 Ingredients:
Ingredients
2 tablespoons of olive oil

1 small sweet onion  that is diced

3 medium sized carrots that are chopped

3 cloves of garlics that are minced well

A pinch of crushed red pepper flakes

Pepper and alt for taste

2 cups of dried red lentils that are rinsed well

6 cups of low sodium chicken broth

6 ounces of fully cooked ham that are cut into bite sized pieces

½ tablespoonof salt

½ tablespoon of lemon juice

½ tablespoon of dried Italian herbs
Directions:
Use some non sticking cooking spray to coat a 6 quart crock pot.

Take a large sauté pan and add some olive oil to it. Let it heat for5 to 6 minutes on a low flame. Add the onions, garlic, carrots and the red pepper flakes to it and  sauté them for 5 to 7 minutes. Season it well with the salt and pepper. Add the entire mixture into your crock  pot now. Add some salt, ham, broth and lentils to it. Stir the mixture well to and cook it on a low flame for 5 and half hours. Stir the lemon juice and the herbs and drink it hot!