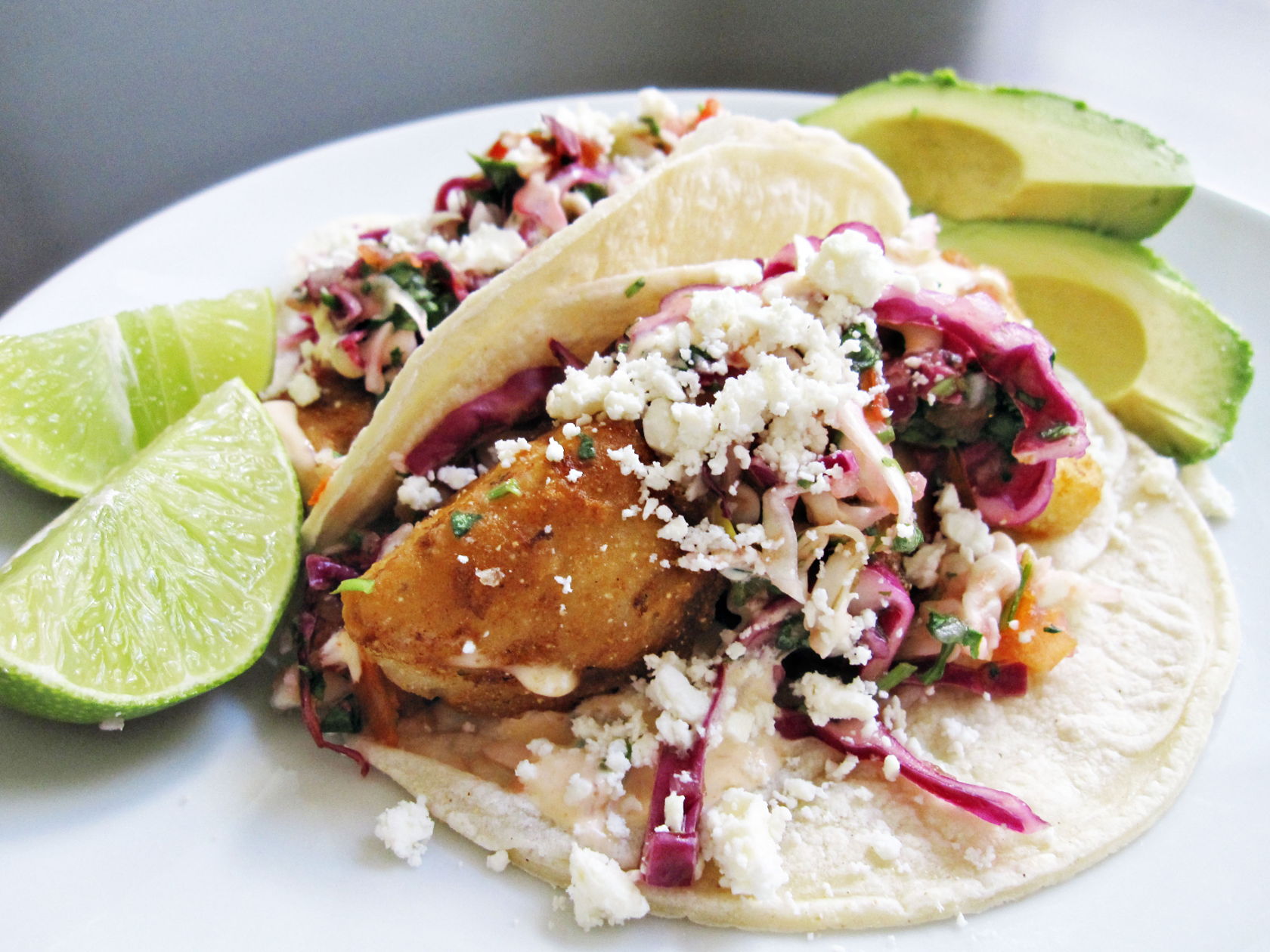 For 6 Servings
Time of preparation: 20 minutes
Time of cooking: 1 hour 40 minutes
Ingredients
Ingredients
Tacos:
450 g white fish layered with meat, such as Mahi-Mahi
 8 tortillas made from wheat flour
 1 coarsely chopped jalapeno pepper
 1 tablespoon chili powder ancho
 1/4 cup canola oil
 Juice of 1 lime
1/4 Cup chopped fresh cilantro leaves
Additives:
Shredded cabbage
Hot sauce
Heavy cream
Red onion sliced into thin half rings
Finely chopped green onions
Chopped cilantro leaves
Salsa, see recipe below
Salsa:
4 sliced large tomato
1 chili Serrano
1 sliced jalapeno pepper
1 tablespoon hot sauce chipotle
2 tablespoon peanut butter
1 coarsely chopped small onions
4 coarsely chopped cloves of garlic
1 tablespoon oregano
1/4 cup chopped leaves of cilantro
Salt and pepper
Direction
Preheat the grill to moderately high temperature. Put the fish into a dish of medium size. Mix the oil, lime juice, chili powder ancho, jalapeno and cilantro and pour this mixture of fish. Marinate 15-20 minutes.
Remove the fish from the marinade, place on hot grill flesh down. Cook on the grill for 4 minutes on one side and then flip for 30 seconds. and remove from heat. Let stand 5 min., then separate with a fork into layers.
Place tortillas on grill and sauté for 20 seconds. Divide the fish according to the number of tortillas and put all the proposed Supplement or any of them.
Salsa:
Preheat grill. In a medium size saucepan heat the oil, add red onion and garlic and cook until soft. Add the tomatoes, pepper, serrano and jalapeno and cook until soft tomatoes, about 15-20 minutes.
Blend the substance until smooth and continue to boil for 10-15 minutes. Add hot sauce, oregano, cilantro, and lime juice, a pinch of salt and pepper to taste.