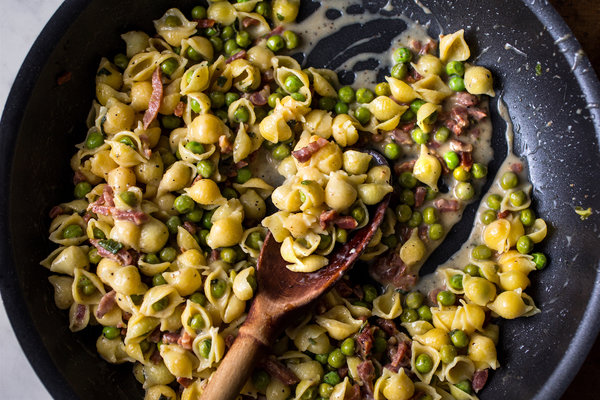 Recipe
Serves: 4
Ingredients:
Ingredients
1 tablespoon unsalted butter

2 shallots, minced

1/2 cup (about 3 ounces) chopped chicken

3/4 cup of frozen peas, thawed

1 cup half-and-half

Salt and freshly ground pepper

1/2 cup freshly grated Parmesan cheese

12 ounces dried pasta of your choice
Directions:
Place a large pot of water and add a pinch of salt. Allow it to boil. Add pasta to the boiling water and cook pasta till it is ready. You can consult the pasta package for instructions.

At the same time, use a large pan to heat butter over medium heat. Add chicken and sauté for 10 minutes till they are almost crispy. Add shallots and occasionally stir till they start to soften in 1-2 minutes. Add peas and half-and-half. Finally, add a pinch of salt and pepper. Allow this mixture to simmer gently till it thickens slightly, say, for about 2 minutes.

By now, the pasta is cooked so drain it. However, keep 1/2 cup of the water. Add pasta to the sauce and toss to combine. Add a little bit of the reserved pasta water only if required.

When you serve the pasta in separate individual bowls then sprinkle some of the freshly grated Parmesan Cheese on top.
Conclusion:
We conclude that this pasta with peas and chicken make a quick, easy to make, well-balanced and healthy meal. The nutrition value of this dish includes carbohydrate namely pasta, protein such as chicken, half-and-half, and peas, and fat namely butter.