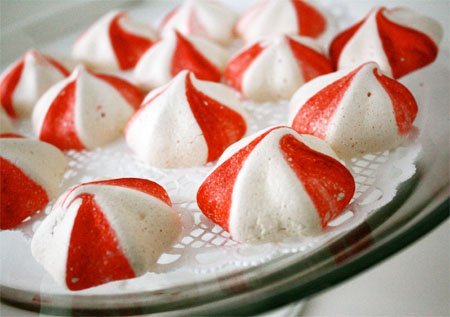 INGREDIENTS
Ingredients
4 bags of gelatin
1/2 cup of water
2 cups of sugar sand
1 table spoon corn syrup
3/4 teaspoon peppermint extract
2 egg whites
food coloring
a quarter сup of corn starch and powdered sugar

DIRECTIONS
Grease the 23-inch baking pan with non-stick spray. Lay some parchment paper on the bottom and grease again with non-stick spray. In a small glass bowl, mix 3/4 cup water and gelatin. Put the dishes on the steam and heat until hot, but do not boil. Leave to cool and dissolve. When gelatin has cooled, add the peppermint extract.
Combine sugar, corn syrup and 3/4 cup water in a medium bowl.
Bring the mass to boil and simmer for about five to seven minutes.
While you are waiting for the sugar mixture, whip the egg whites to a stiff foam.
When sugar mixture is ready, turn off the heat and add the gelatin mixture.
Gradually add the mixture to the egg whites, constantly whisking. Pour very slowly!
When the marshmallow mixture will be very thick, pour it into the prepared pan. Cover with red food coloring and spread it with a toothpick to get a nice divorce.
Leave the marshmallows at room temperature for at least three hours, so it froze. As soon as the mass hardens, put it on a cutting Board using a pizza cutter or kitchen scissors, cut into squares. Grease the pan in which to store the marshmallows, nonstick spray, put in her candy and sprinkle with powdered sugar. Store in an airtight container in a cool place.