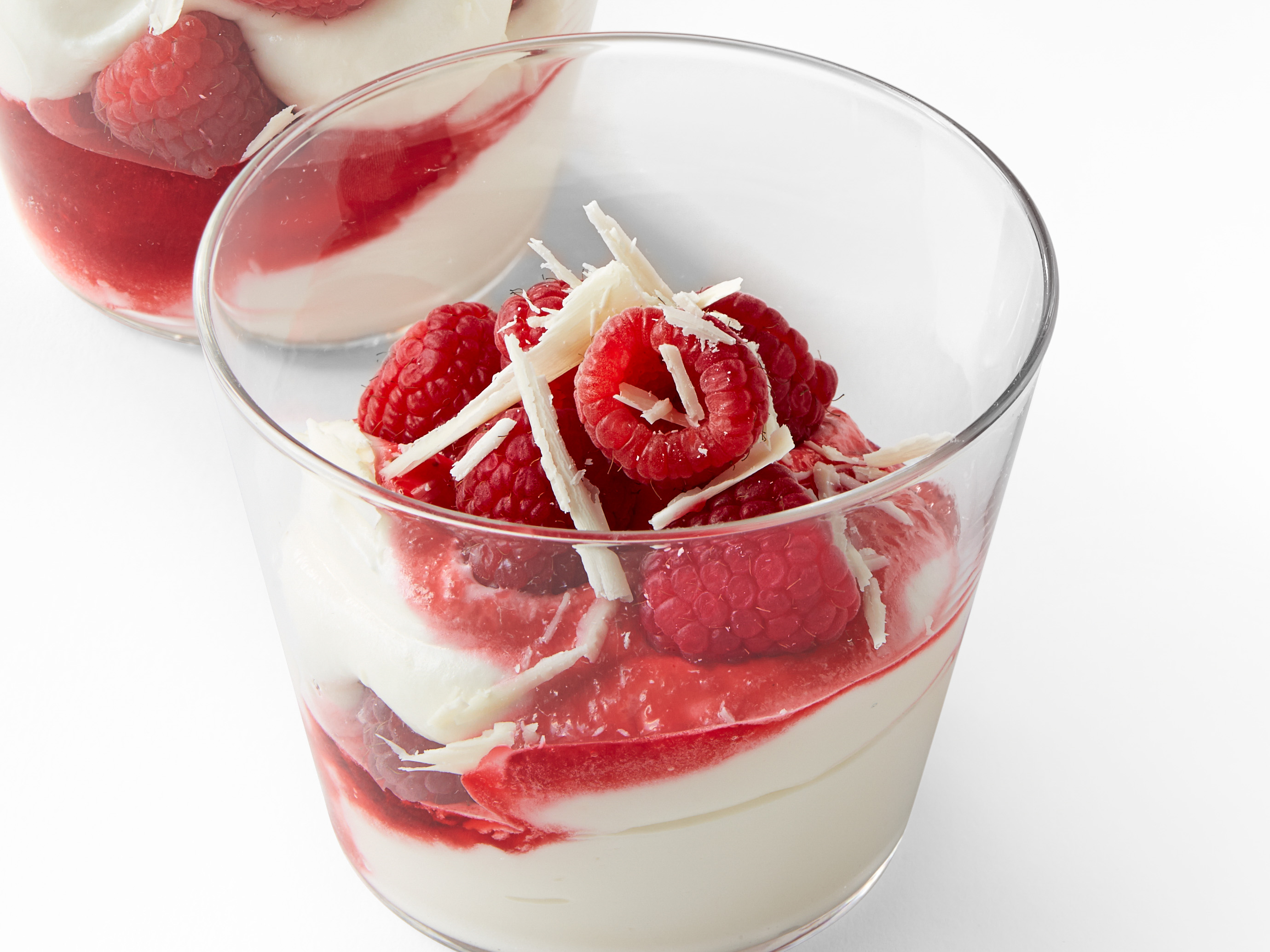 Ingredients:
For the mousse:
Ingredients
2 to 3 cups of  heavy cream that is divided

3 eggs

3 tablespoons of powdered sugar

1 teaspoon of vanilla

Pinch of cinnamon

Half a cup of white chocolate chips

20 ml cognac
For the sauce
Ingredients
2 cups frozen or fresh raspberries

Squeeze of lemon juice

1+ tablespoon water

⅓ cup Dixie Crystals Sugar.
Directions:
Grind the yolks with the sugar and until a creamy consistency.

Make the mousse: beat the 1 ¾ cups of the heavy cream, the vanilla with a p

inch of cinnamon

 and the powdered sugar until it feels smooth and soft in a large bowl. I guess it should take around 2 minutes. You can do this hand electric mixer.

Make the sauce: In a saucepan, combine raspberries, sugar, and lemon juice. Simmer and stir occasionally till berries break down. Mix together cornstarch with a tablespoon of water to make a slurry (you can add a little more water if needed). Mix into a hot raspberry sauce and cook till mixture thickens. Strain through a mesh sieve to remove seeds and set aside to cool to room temperature.

Take a medium sized bowl and put the white chocolate chips into it. Add some cream into it and beat it well. Keep it in a microwave for 30 seconds of intervals, until you can feel that the chocolate is melting down really well. Whisk the cream that is whipped into this chocolate that is melted. Then add cognac.

Now, you need to divide half the mousse into 6 small tumblers, top each of them by using 1 or 2 tablespoons of chilled raspberry sauce. You can also top it up by putting some raspberries on the top. Repeat doing the same thing again and form another layer.

Refrigerate it well until the mixture turns cold and let it stay there for at least 30 minutes. Serve it cool and enjoy!
Parfait can be served as a separate dessert (souffle, ice cream or cake-ice cream). For ice-cream-cake, there are special forms, so you can easily lay them in multi-colored layers, ice cream and mousses.
Serve in dessert bowls or on dessert plates, decorate with berry sauce.