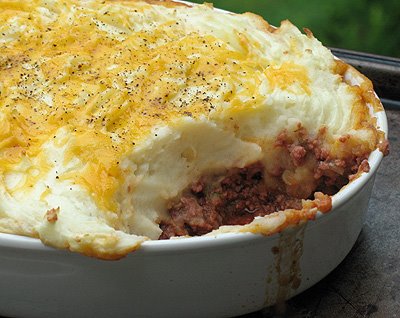 PREPARATION TIME:
10 minutes
TOTAL TIME TAKEN:
35 minutes
COOKING TIME:
25 minutes
Cornbread along with meats sloppy joes. This is one really tasty dish which is super easy, very quick, pretty inexpensive, and just requires the use of one pan!
Serves: 4 people
INGREDIENTS REQUIRED
Ingredients
½ cup of corn flour
½ cup + 2 tbsp of wheat flour
1 teaspoon baking powder
salt and freshly ground pepper ( to taste )
1 tablespoon olive oil
2 paprika
1 onion (red)
half a kilo of mushrooms or white mushrooms
700 g minced beef (can be both)
0.25 cup of tomato paste
0.75 cup of low-fat cream
1 egg
¾ cup of water
DIRECTIONS FOR PREPARING THE MEAL:
Preheat the oven to 210 C°.

Combine a half cup of each type of flour, baking powder and a pinch of salt. Set it aside.

Heat some vegetable oil in a large frying pan. Remove the seeds from the paprika and cut it into pieces. Peel and chop the onion. Add it also to the pan. Chop the mushrooms. Put them in a frying pan and add some pepper and salt. Stew the mixture for 6-8 minutes, stirring constantly. Add more heat and put minced beef and tomato paste in the pan. Also mix 2 remaining tablespoons of flour and pour in the water. Salt and pepper.

Combine the flour mixture with cream and a beaten egg.

Stir it thoroughly. Lay the dough on the surface of the minced beef with mushrooms – 1 tablespoon in a short distance from each other. Bake until the dough is golden. It takes 15-20 minutes. Put a pan with salt or a bowl of water on the bottom of the oven not let the cake burn. But if the cake browns on top, cover it with foil. Bon Appetit!